Phil Gaunt from Chamonixfirst
Phil Gaunt from Chamonixfirst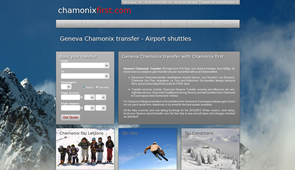 After deciding we wanted a complete website overhaul for our Airport Transfer Company based in Chamonix France, we set about looking for a company to work with.
Alongside proven design skills, web hosting/migrating experience and available on-going support, communication was imperative to make sure the project headed in the right direction from conception to completion as we are based away from the UK.
After a brief email to Steve from Innaxsys a Skype meeting was arranged for the next day where we exchanged ideas and a brief was outlined.
Our previous website had a high bounce rate which was a concern and we asked Steve if he could see a particular reason for this. After a quick analysis this was put down to a slow loading speed of the site and an unwelcoming homepage page which greeted prospective clients causing them to leave as soon as the landed in most cases.
Within a few days Steve had come back to us with some ideas and mocked up pages showing the ideas he had. He decided that images of Chamonix should be used on the background of the site and the drop down boxes should use corporate colours to make the site professional as opposed to our previous site.
Within a week the site was complete and the content from our previous site had been copied over and laid out differently, again to give a professional feel.
Then the site was made SEO ready and the content was even edited to make it search engine friendly to boost our rankings.
Once the site was completed it was migrated over to a new faster host server and launched seamlessly within an hour meaning minimal downtime of the website. The final thing to do was to have our email accounts re configured and before we knew it our emails and site were up and running. The site was even migrated at an off peak time to ensure minimal effect.
After a few weeks and a new analysis we have seen our bounce rate improve by over half and an instant increase in bookings as we are attracting new customers and keeping them on the website for longer.
Overall we had a great experience with the guys from Innaxsys. Communication has been second to none, with all emails answered nearly straight away and weekly Skype meetings to ensure everything was on track.
With more new development work planned, we have already booked the guys from Innaxsys to help us go forward, a real testament to the quality of work and professionalism we experienced.
Many thanks

Phil Gaunt