Zurego Health and Beauty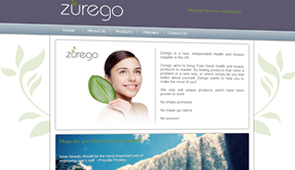 New business venture zurego.com is an independent health care company specialising in researching, creating and marketing high quality health and beauty products throughout Europe. Zurego wanted to create an online business presence, which portrayed a clean and clear image to reflect their brand.
Innaxsys provided Zurego with a business package to include a website design, eCommerce, support and hosting solution, with the aim to provide product information and sell beauty products online. For selling products online, the aim was to provide a simplistic approach to the product ordering process, with the ability to provide promotional product discount capability through coupon and discount codes at the point of checkout.

Business website package provided to Zurego with the following features:
Full website design.
eCommerce solution for online product sales.
Product stockist locator. A search facility for locating product stockists.
Full website hosting with unlimited bandwidth and storage.
10 Email addresses.
Free Domain name.
10 free website design revisions.
SEO (Search Engine Optimisation).
For Health and Beauty Products visit zurego.com.
By Innaxsys